How Will Darth Vader Fit Into Rogue One?
---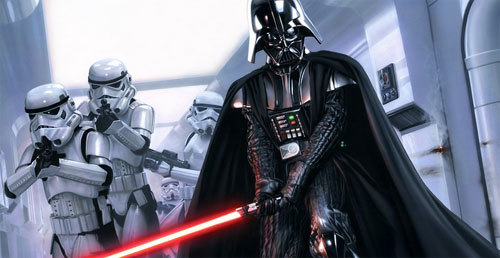 A long time ago (May 25, 1977 to be exact) Darth Vader was first introduced to audiences in the original Star Wars, which would later be re-titled A New Hope, and instantly became the most iconic villain in cinematic history, going on to become a beloved mascot for the franchise. Not bad considering franchise creator George Lucas thought the film would be such a colossal failure that he didn't even attend the films premiere.
And now the heavy breathing, Dark Lord of the Sith is coming back this December for Rogue One: A Star Wars Story, the first in Disney's planned Star Wars anthology spin-off films. But whilst the premise of the film has been known for quite some time, the inclusion of Vader was just announced only recently, leaving us wondering what exactly Vader's role in the film will be, and how much Vader we are we going to get.
Entertainment Weekly reports Kathleen Kennedy as saying Vader will "be in the movie sparingly, but at a key, strategic moment, he's going to loom large."
Although the main villain of Rogue One will be Animal Kingdom star Ben Mendelsohn as Director Orson Krennic, Vader will be somewhat of a secondary villain, but the driving force behind the story itself.
"Darth Vader kind of looms large over the plot, even when he's not necessarily on screen, because the new villain, played by Ben Mendelsohn, he's trying to fulfil the wishes of the Emperor, and he's got Vader looming in the background, over his shoulder."
So what does this mean? Well we know that Rogue One is set in the weeks leading up to the capture of the ship in the beginning of Star Wars: A New Hope. So this means that Vader, whilst not the main villain of the story, is somewhat of a puppet master here and we'll be very much aware of his presence.
It's going to be interesting to see the power dynamic between both Vader and Krennic. As we know, Vader has a long standing legacy throughout the films and that this won't be his last rodeo, but Krennic, as far as we know, is tied solely to this film, so it would be fair to assume that whatever his fate may be, things probably don't end well for him. Will he be killed by the Rebel Alliance? Will Vader dispose of him when he inevitably displeases him by failing to stop the Death Star plans falling into the Rebels hands? Will he spend the rest of his days in an Imperial prison cell with a certain annoying Gungan who shall not be named?
Are you excited about Darth Vader returning to the big screen? Rogue One: A Star Wars Story is in theatres worldwide December 2016.